zine2018 (All Print Issues)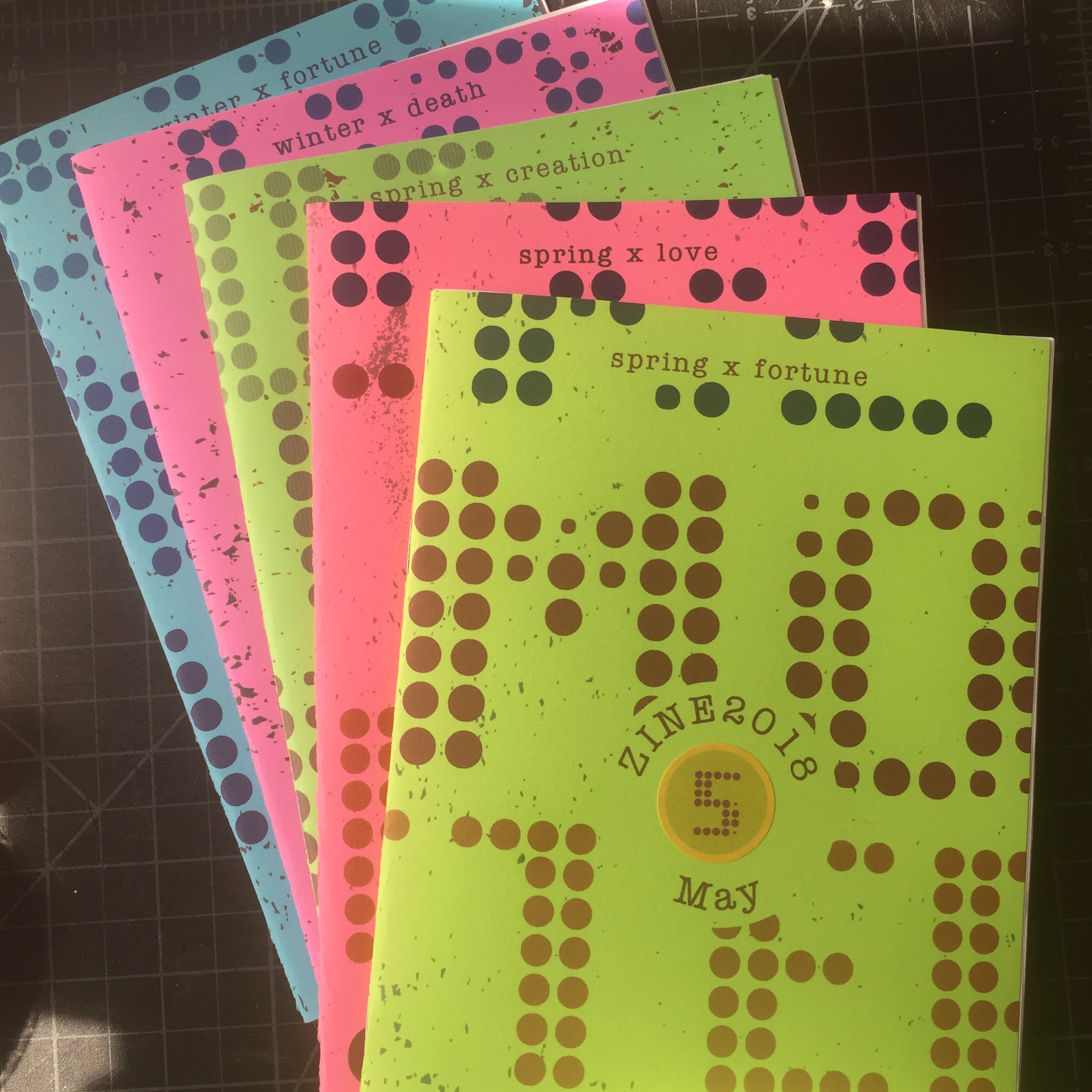 zine2018 (All Print Issues)
zine2018 was a monthly zine project over the course of 2018. Each issue explores a central theme through my personal lens, as I try to focus and explore issues, ideas and problems in and around my life. It's over now, but it was zine2018 a personal project that, hopefully, still has resonance with others navigating their own difficult years.
Select which issue you wish to order from the dropdown. If you want more than one, you'll need to add each one to your cart individually (or check out the bundle options). All issues come with PDF(s) included, which will be emailed to you manually (please allow up to 24 hours for this).
BUNDLES
First Six Issues Bundle. Get issues #1-#6 for only $20.00! There is also a PDF bundle available of the first six issues for $10.
Last Six Issues Bundle. Get issues #7-#12 for only $20.00! There is also a PDF bundle available of the last six issues for $10.
THEMES
The project was organized around a cycle of four themes throughout the year: Fortune, Death, Creation and Love. Each themed three-issue bundle is $12.
Fortune: Horizons, Gratitude & Renewal (the January, May & September issues)
Death: Isolation, Enervation & Failure (the February, June & October issues)
Creation: Emergence, Courage & Harvest (the March, July & November issues)
Love: Passion, Decadence & Celebration (the April, August & December issues)
SINGLE ISSUES
Issue #1 | January | Horizons
24 pages

Doing Something New, Letting Things Go, Finding New Goals, Failures and Victories, Grace and Clarity

Game: The Apprentice's Ascent
Issue #2 | February | Isolation
24 pages

Memoria: Three WInters, Lonely Strengths, No Mentors, Finding Sparks/Keeping Warm, Music Musings

Game: Alone Together
Issue #3 | March | Emergence
24 pages

Finding New Interests, Newness and Novelty, Dreamation 2018, Wrestling & Larp

Game: Chrysalis (a one-player game)
Issue #4 | April | Passion
20 pages

PassionoissesbO, Crushes, Making Your Hobby Your Job, Investing in Others Passion

Game: Heart, Mind, Body
Issue #5 | May | Gratitude
20 pages

Indicia Reading: Past, Present, Future; Luck & Humility; Unexpected Fortune; Making Your Own Luck

Helpful Hands: A Situation-Framing Game
Issue #6 | June | Enervation
24 pages

It's Too Hot, Losing Interest/Staying Busy, Entropic Heat Death, Goals Checkin

Game: Treasures of the Jungle, A Free-Form Choose Your Own Adventure Game
Issue #7 | July | Courage
12 Pages

Pushing Through, Low Spirits, Dreams of Retirement

Game: Blind Courage, a Push-Your-Luck Game for One
Issue #8 | August | Decadence
20 Pages

Self-Care <-> Self-Indulgence, Bad Taste & Bad Art, Do What Makes You Happy

Game: Suffer Them To Live (A Game of Indulgence & Pleasure)
Issue #9 | September | Renewal
20 Pages

Second Editions, 10 Questions

Game: Resurrection of the Essence Tree (A Board Game for 3-5 players)
Issue #10 | October | Failure
12 Pages

Coping Mechanisms, Bitterness vs Motivation, Sunk Cost & Cutting Losses

Game: Failing Forward (a push-your-luck game of making progress)
Issue #11 | November | Harvest
20 Pages

2018 Projects: Gathered & Stored/Strong Seeds/Fallow in the Field

Game: Black Sun // Red Shift (A WWWRPG wrestling tournament to save the world)
Issue #12 | December | Celebration
16 Pages

Time to Come Together/Holidays in Memory/Year in Review

Game: The Joy of Others Company (a casual game of ritual making)
zine2018 was funded by my Patreon. It is now over.
sale